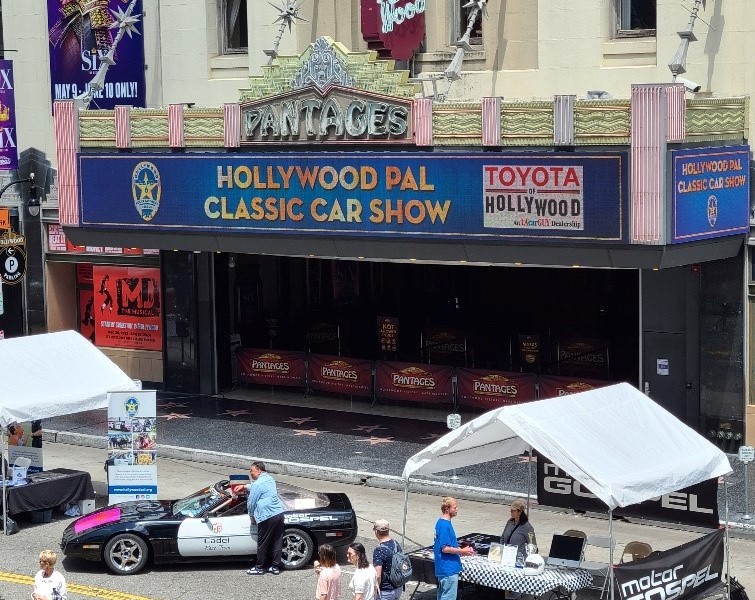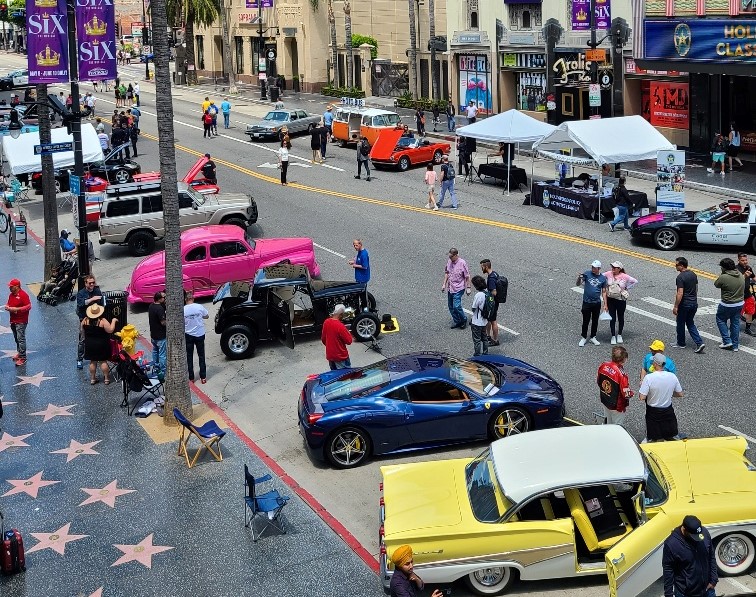 HOLLYWOOD — On Sunday, May 7, the Hollywood Police Activities League (HPAL) hosted its Second Annual Car Show and Community Block Party, shutting down Hollywood Boulevard from Vine Street to Gower. Showcasing over 40 vintage and exotic rides, HPAL had Hollywood Boulevard rocking with music, community booths, cold beer, arts and crafts, mural painting, Girl Scouts selling Agua Fresca, and lots of smiles from the thousands who turned out for the event.
Shotgun Tom Kelly emceed as DJ Luis (@thesilencedj) played jams in front of the Pantages Theatre, while visitors strolled along the boulevard checking out amazing rides. Gary Goltz and his incredible Highway Patrol Celebrity Car and Motor Gospel Sports with their law enforcement race cars were additional highlights of the show.
From Mustangs and Fairlanes, to Model T's, Corvettes, motorcycles to a Ferrari Italia, the car show had the Boulevard buzzing with car aficionados and novices alike, snapping selfies, and trading stories. When it came time for the awards presentation, 10 winners were declared from vehicles spanning over nine decades with a gorgeous 1968 Karmann Ghia owned by Serge as the winner of Best in Show. 
1st Place/Best in Show – Serge Paloulian – '68 Karmann Ghia

2nd Place Classic  – Les Halpert – '65 Ford Ranchero

3rd Place – Rod Dixon – '33 Ford 3 Window

4th Place – Bob Pritchard – '54 Olds 88                           

5th Place – Rod Romano '23 Ford Model T         

6th Place – Kim Tucker – '57 Oldsmobile            

7th Place – Jerry Paquette – '65 Ford Mustang

8th Place – Kathy Johnson – '40 Ford Sedan                    

9th Place – Duane Hinkle – '29 Ford Model A Roadster 

10th Place – Garland Campbell – '66 Ponitac GTO 
This year's car show was a huge success, according to Kitty Gordillo, HPAL's Executive Director. "The event gets better every year, with even stronger community engagement," Gordillo said. "Not only did we raise money and awareness about HPAL's work, but the event also provided an opportunity for the community to gather on the Boulevard and celebrate Hollywood. HPAL is committed to hosting events that help establish positive relationships and build trust between community members, local businesses, and law enforcement."
HPAL extends a special thanks to those who helped make the event possible, including Toyota of Hollywood for their sponsorship and Hugo Soto-Martinez's office for assistance with logistics. Shoutouts to LAPD Hollywood Division, the Hollywood Pantages for setting a beautiful stage with their marquee, the W Hotel and Residences for their VIP lounge, Pouring with Heart for donating beer, Coast Parking for their discounted rate for spectators, Arts Bridging the Gap, and all those who attended.
We look forward to seeing everyone again next year!
Check out videos and photos here!