Welcome to Hollywood PAL
Hollywood PAL drives positive change in the community we serve by partnering with LAPD and school-aged youth in programs that celebrate diversity, equity, and inclusion and inspire personal excellence, social awareness, and civic engagement.
Get Involved
Donate
Hollywood PAL serves more than 600 youth, ages 5-17, annually from Hollywood and surrounding communities.  We offer programs throughout the year that include Martial Arts, Soccer, Virtual Tutoring, Girl Scouts, Basketball, and Youth Advisory Council.  We also offer marathon training, hiking, dance, and other healthy living activities through the Hollywood Fit Club.  Our Hollywood Arts Club does mural painting, photography and other fine arts activities.  Our Enrichment Academies offer week-long summer camps and other activities teaching life skills, a PAL Mentoring Program and the PAL College Scholarship Program that includes partial scholarships available to our Hollywood PAL alumni.
The Hollywood Police Activities League proudly runs a variety of sports, enrichment and engagement activities.
Hollywood PAL hosts many spectacular fundraising events throughout the year
There are several ways you can help make a difference in the lives of the children of Hollywood PAL.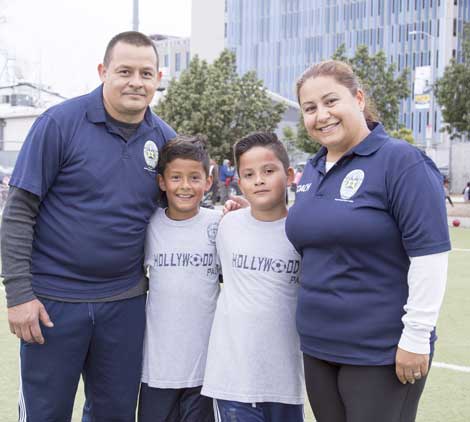 Hollywood PAL serves at-risk youth ages 5-17 that without participation in our programs would be at high risk for involvement in juvenile crime in Hollywood and our surrounding community.