Welcome to Hollywood PAL!
The Hollywood Police Activities League (Hollywood PAL), in partnership with LAPD, strives to inspire and support community youth and their families to realize their full potential and lead productive, civically engaged lives.
Through officer and volunteer led sports and enrichment programs,       at-risk youth to form healthy, positive attitudes toward the police, the society and the community they live. 
Get Involved
Donate
Hollywood PAL serves more than 600 at-risk youth, ages 5-17, annually from Hollywood and surrounding areas of Los Angeles, offering programs throughout the year. Programs include Martial Arts, Soccer, Tutoring (only available for kids also enrolled in another PAL activity), Hollywood Fit Club (marathon-training, hiking, dance and other fitness activities), Hollywood Arts Club (mural painting, photography, and other fine arts activities), The Enrichment Academies (week-long summer camps teaching life skills), PAL Mentoring Program and the PAL College Scholarship Program (partial college scholarships available to alumni).
The Hollywood Police Activites League produdly runs ten different activity programs.
PAL Hollywood proudly hosts several  fundraising events throughout the calendar year.  
There are several ways you can help make a difference in the lives of the children of Hollywood PAL.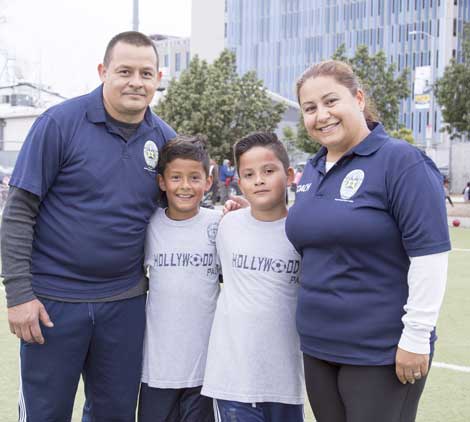 Hollywood PAL serves low-income youth (with at least 92% qualifying for the free school lunch program) ages 5-17 at risk for involvement in juvenile crime in the Los Angeles area, particularly Hollywood and its environs.
A Special Thanks to Our Sponsors