HOLLYWOOD PAL CELEBRATES SIXTEEN HOLLYWOOD DIVISION YOUTH FOR COMPLETING THE LOS ANGELES MARATHON IN GRIFFITH PARK 
HOLLYWOOD (March 29, 2021) – Sunday morning sixteen (16) Hollywood youth gathered in Griffith Park to participate in a 26.2-mile trek through Griffith Park, "virtually" completing the LA Marathon.  Parents, LAPD volunteers, officers, and staff worked water stations, rode bike support, and shared words of encouragement throughout the morning and afternoon.  Finally, everyone involved shouted cheers of celebration as each child pushed through the flags across the marathon finish line.
"This year's marathon was harder than usual due to the complications covid caused. However, the officers, parents, and Cynthia helped us prepare for a marathon like no other," states PAL participant and High School Junior, Alejandro P. "Through the pain and suffering, we were all able to finish the marathon. A marathon with no usual fans, just the support from the great community PAL is."
Alejandro was the first youth across the finish line completing his run in 4 hours and 31 minutes.  Alejandro didn't just get his medal and leave though he was definitely tired.  None of the Hollywood PAL Run Team, parents or volunteers left early.  Everyone stayed to watch and cheer on the next finisher, and the next, until all 16 kids and 8 adults–including 4 parents that ran in solidarity with their kids–made it across the finish line.  
This was the culmination of 8 months of practice and six different distance runs including a 5K, 10K 15K, two half-marathons and an 18-miler, all to prepare for and complete Sunday's event.  LAPD Hollywood officers, staff, and volunteers mentored, advised, and motivated each one of these kids, helping them set goals, hit milestones, and finally accomplish the life-changing event of completing a marathon.
Even more amazing is the fact that they accomplished all of this during a global pandemic.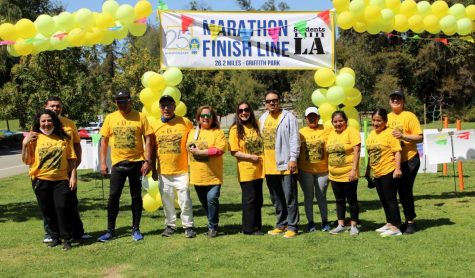 Collaborative efforts between Students Run Los Angeles (SRLA) and the folks at LA Marathon adjusted competition requirements for SRLA students, making it a "virtual" format, recording and reporting their distance and time electronically.  Taking into account city and county shutdowns, as well as COVID safety requirements, Hollywood PAL officers, staff and team leaders found creative ways to help them train remotely while keeping them engaged and working towards this uniquely personal goal. 
"This past year has been tough for a lot of us, but we proved that we can achieve our goals under any circumstances. Our youth persevered through all the obstacles that came our way and never gave up, and that's what running a marathon is about," shared Cynthia Ayala, SRLA Team Leader.